Bishop Rosie S. O'neal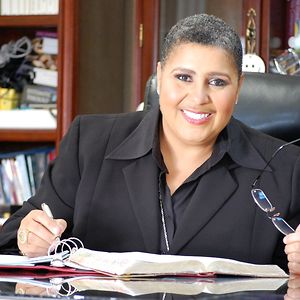 As a pastor and a pastor to pastors, Bishop Rosie O'neal's episcopal ministry is best expressed by her heart. She lives to love Christ and to love and serve others, and joyfully serves Koinonia Christian Center Church Ministries in Greenville and Raleigh as Senior Pastor. From a church of 7 to well over 2500 members at the Greenville location, Bishop O'neal has maintained an atmosphere of transparency, integrity, authenticity, and excellence.
As the founder and presiding Bishop of K.F.C.M., Koinonia Fellowship of Churches and Ministries, Bishop O'neal provides covering to 18 churches both stateside and internationally. A giver by nature, Bishop O'neal has tirelessly counseled Pastors, churches and people from all walks of life investing into their lives on a variety of levels. Because of her keep-it-real approach to ministry, churches and pastors are drawn to her genuine spirit and approachable attitude. She both encourages and instructs by sharing knowledge and information that has transformed ministries and impacted lives.
As a graduate of Mount Olive College with a Bachelor of Science degree in Religion, and a minor in Business Management and Organizational Development, Bishop O'neal desires to broaden her horizons and gain new insights into ministry applications to be of even greater benefit to those she serves.
Bishop O'neal partners together with her husband, Toiriste O'neal to oversee the spiritual and practical day-to-day operations of Koinonia Christian Center Church Ministries. Together they provide both the Biblical, functional and spiritual guidance that is necessary to maintain and develop an ever-increasing, ever-expanding, God-ordained ministry of excellence.
As a mother, Bishop O'neal is proudly and joyfully devoted to raising her sons, Toiriste Winifred O'neal Jr., and Jonathan Anthony O'neal. Her commitment to her marriage, her family, and her church has caused Bishop O'neal to receive the favor of God and gain the trust and respect of ministries all over the world. As a recent cancer survivor, Bishop O'neal has shown that faith and perseverance will carry Believers through anything they may encounter.
Peletah Ministries is happy to announce being named the newest member of the Koinonia Fellowship of Churches and Ministries